Construction of TLS School in Abuurow IDP -EACII project- Baidoa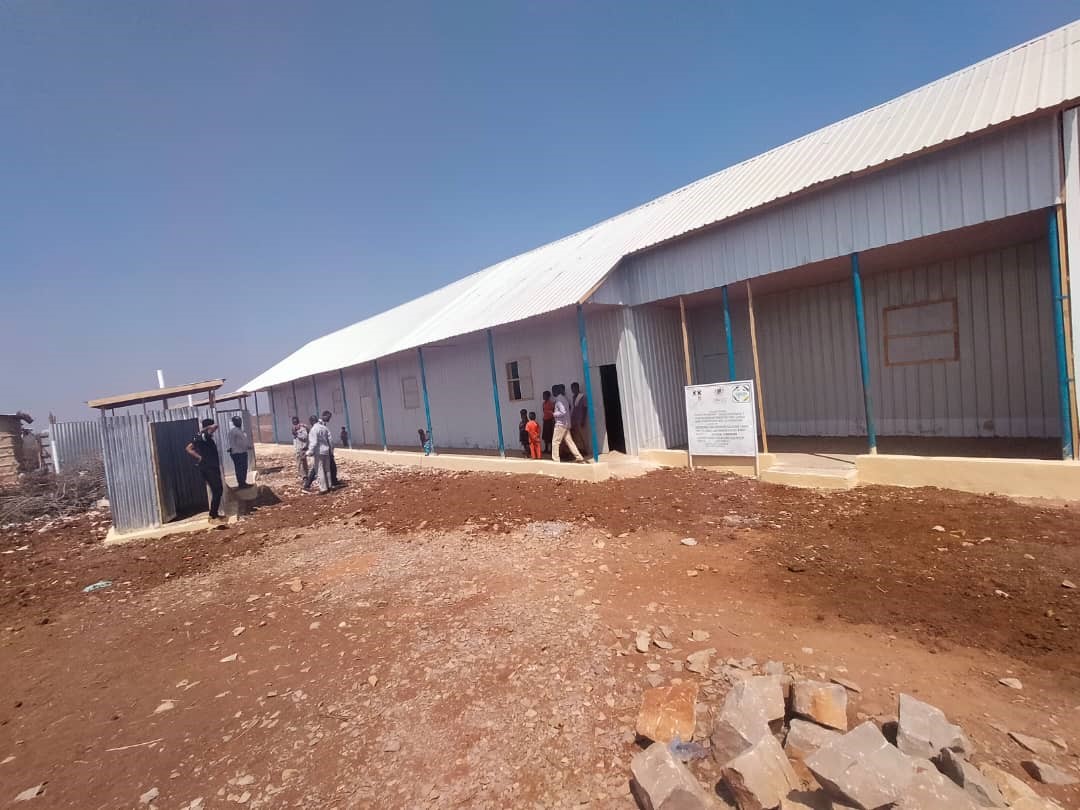 Success Story on Rehabilitation of schools and Construction of TLS schools-Baidoa
EACII project-
Due to the compounded drought, civil war, economic crisis, and climate shock more than 3 million children in Somalia are out of school, although there is a try to overcome these challenges by humanitarian aid workers, gradually growing Somalia's federal government and well-wishers still poverty, long distances to school, safety concerns, lack of teachers, particularly female teachers and low availability of sanitation facilities stopped parents from enrolling children, particularly girls, in school.
When children make it to school, they are rarely able to benefit from it fully because of overcrowded classrooms, inadequate water and sanitation facilities, and a shortage of qualified teachers. Children living with disabilities face even more challenges and adolescent girls are rarely able to complete secondary education.
Families facing ongoing conflict and natural disasters are constantly on the move from one place to another and often denied their children's rights to education, making it very difficult for them to continue schooling.
The already faced challenges and difficulties have been worsening, again the Covid-19 pandemic widely spread in early 2020 which has increased the dropout rate in Somalia.
To address these, GREDO in partnership with CARE and Wardi, Launched EDUCATE YOUR CHILDREN II (WAXBAR CARUURTAADA II) PROJECT, IN PARTNERSHIP WITH EDUCATE A CHILD, A PROGRAMME OF THE EDUCATION ABOVE ALL FOUNDATION project to identify 72,600 vulnerable OOSC to enroll and retain in formal primary education and 10,000 overage OOSC to enroll and retain in alternative basic education in Putland, Galmudug, Hirshabele, Banadir Jubaland and South West State.
Provision of teachers incentives in exchange for free primary seats and Flexi classes, capacity building training to use child-centered inclusive teaching practice, rehabilitation of schools, construction of temporary schools, and door to door community mobilization are some of the criteria adapted to identify and retain children in schools.
In the line of the TLS Construction GREDO has constructed two (2) TLS schools in Baidoa, containing four classrooms, 1 office, and 2 latrines, and 60 students set forms under the EACII project from Feb to March 2022 and this is the story shared by Batulo Mohamud Mohamed Chairperson of the newly formed Abuurow Primary School CECs in Baidoa. One of the just-completed TLS.
"GREDO has constructed for us four classrooms, an office, and two latrines in Buulo Jadiid in Horseed village Baidoa. This new village and seven surrounding IDPs have been looking for school construction since 2018, the nearest school in our location is Garsaaley IDP school about 1.5KM.
Apart from the distance, the said nearest school is already overcrowded and has no space to enroll new learners.  This lack of access to nearby schools has negatively affected our children. Some engaged in early marriages, some in child labor while others simply became vagabonds who are of no use to themselves and to the society as a whole.
We thank GREDO and the ministry of education for giving us this school, and we thank the company for the quality of the construction. It is such a big relief that our children will now have access to school where free basic education will be provided to them.
We have children of all age brackets, some who qualify for formal education, some ABE yet others who are overaged and can benefit from NFE education service or vocational training if given a chance. These children come from:
Buurey haraw IDP camp
Qaydar Edi IDP Camp
Doon warabi IDP Camp
Caashi Gaabi IDP Camp
Shishibow IDP Camp
Himilow IDP Camp
Towsili IDP Camo and
Bulo Jadiid residents.
The positive impact for these new schools will have on our children and by extension, our community can never be captured best by mere words. Children from these above-mentioned IDPs will shape their future here and become responsible and productive people in their society.
You may worry about how to get enough children to enroll but I can assure you, space may never be enough. We have so many deserving children who are eligible for both formal and ABE pathways. we will divide the children into morning